Colon Hydrotherapy is an alternative health hydro therapy that gradually and gently cleanses the colon by flushing with a warm water solution. Colon cleansing is preventative healthcare; there is no better place to begin to rid your body of toxins and contamination that may cause cancer, colitis, digestive disorders, fatigue, obesity, and so much more. The practice of cleansing ones colon (lower bowel) is by no means, a new idea, and when you discover some of its many benefits, you may be encouraged to pursue this further by engaging the services of a professional colon therapist. Colon Hydrotherapy generally involves the use of low-pressure water (created mechanically or by gravity) and administered in the presence of, and/or with the assistance of a trained colon therapist. Enema, colon lavage, clysters are generally self-administered and only involve the cleansing and evacuation of the lower sigmoid colon and rectum. Not as thorough as colon hydrotherapy, but still of benefit.
Why should I cleanse my colon? The holistic/alternative approach theorizes an understanding that most illness and disease is caused by an unhealthy colon.The colon wall is lined with nerve endings that accumulate fecal matter, which can interfere with proper nutrient absorption and play a role in the mal-functioning of correlated organs and systems in the body.This sets up a good breeding ground for yeast, parasites and harmful bacteria (dysbiosis).
For example, if the nerve ending in the colon thats correlates to the the thyroid is blocked with old fecal mucoid plaque this could be a culprit of excessive weight gain; adrenal glands: low energy; pituitary gland: hormonal imbalances.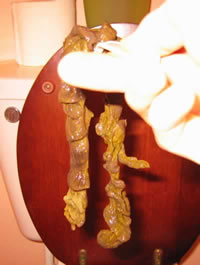 Colds, flu, cancer, cardiovascular disease, arthritis, acne, and allergies are all examples of diseases caused by excessive amounts of poor-quality food combined with bad elimination.  When you don't eliminate properly, food waste can stay in your colon for days, weeks, months, even years, putrefying and then poisoning your entire system.  In most cases, seriousness of disease corresponds directly to the level of toxicity.  Did you know that 95% of Americans have clogged colons (US Health Service)? A clean colon leads to improved health! Retained debris in the colon leads to absorption of toxins, resulting in "systemic" intoxication. Colon cleansing is simply the best way to remove toxins and waste from the body. Without proper bowel function, all other therapies, treatments, supplements or other aids, fall far short of their potential good.  Proper bowel function is essential to maintaining health, and if ill, to overcoming sickness and disease. 
 How do I know if I need to do a colon cleanse? If you have any of these common symptoms of toxicity, you need to cleanse:
Slow metabolism/Weight Gain
               

Constipation
Stomach bloat or gas
Poor digestion
Bad breath or body odors
      

Skin problems

Lymph congestion
Poor circulation
Premature aging
Excessive Candida

Headaches 

Depression

Mental dullness or poor memory

Fatigue or low energy

Joint aches (especially knees)

Nausea

What are the benefits of colon cleansing?

Skin problems should clear up, you should look younger, headaches vanish, pounds should shed, and energy level should increase, while aches, pains and stiffness become memories. 

Is colon cleansing safe?

In making the decision to self-treat, one must also accept responsibility for monitoring the body's response to that self-treatment protocol. There are no direct side effects caused by colon irrigation under sanitary conditions. However, the process can stir up toxic material as it is being released which may cause a healing crisis. Toxins that were once dormant in the layers of mucous have been flushed out and a small amount may be re-absorbed into the system of the body. Some people experience flu-like symptoms such as nausea, headaches, dizziness, tiredness, or skin rash after a colonic, which an indication is usually, that more cleansing is needed. The goal is to remove the toxicity, therefore a little momentary discomfort along the way toward vitality and well-being is well worth the effort. Electrolyte balance after cleansing is also very important. We always replenish your electrolytes and/or healthy bacteria after colon cleansing.
THIS OUR SETUP! QUICK, CLEAN and EFFICIENT!

How often should I cleanse my colon? According to the founding fathers of colon cleansing (Dr. Bernard Jensen,Dr. Norman Walker,etc) at the very least, you should schedule a colon cleanse to coincide with the change of the seasons, four times a year.  However, colon cleansing is recommended whenever your body becomes ill or constipated.  Your cleansing schedule is a personal choice, after all, no one knows your body like you do and every body has different needs. Most people initially need a series of bowel hydro-therapies to get the body and the colon back into balance.  The key is listening to your own body to know if you need to cleanse daily, every three weeks, every quarter, or semi annually. Colon therapists generally recommend a series of colonics starting out, according to weight, age and any pre-existing conditions. Due to lifestyle, poor eating habits, environmental pollutants, medications, etc., we recommend a thorough cleanse whenever it is needed, and each time you become constipated, but at the very least quarterly.


The human body is made up of 60%-70% water. There are different types of salts within the body's fluids that are capable of conducting electricity. In fact, our whole body acts like an industrial plant that produces chemical reactions and generates electrical currents, which produce energy. Water is, of course, very fluid and has the ability to alter molecules in the presence of certain solutes and energies, which can also be referred to as 'memory'. It is precisely this principle that is used in homeopathy in the preparation of homeopathic remedies in different potency's. They dissolve to such an extent that there no longer appears to be molecules of solute present. It is this memory phenomenon that explains the clinical action. 
 
When we introduce our feet into the Ionic Footbath water, our body fluids are actually connecting with the water. When we cause an electrical current between the two electrodes of the array, the water becomes the main conductor. This current in some way propagates with our own water. We must also remember that on the soles of our feet we can find a large number of reflex points that correspond to specific organs or certain parts of our body (this is the principle of reflexology). Also, we find in this area the beginning of the meridian flow lines that have been outlined for us in Chinese medicine, used by acupuncturists and previously by allopathic medicine. Therefore, any kind of stimuli - be it mechanical, luminous, electromagnetic or simply electric - in one way or another causes a reaction in each bodily system, organ or corresponding body area reflected on the sole of the feet. This means that no matter what type of dialysis takes place, the level produced through the pores and glands of the feet is minimal and what actually happens is bio-stimulation which restores energy and balance, eases tension in certain areas, and re-establishes energies previously blocked. This then helps the body's organs to function correctly. In other words, by recharging the batteries, each organ can get back to its optimum efficiency.

The Mechanics: The array goes into warm water with the feet, and the power supply delivers a small amount of direct current into the array. This causes the metals within the array, in combination with water and sea salt, to generate positive and negative charged ions by separating oxygen and hydrogen in the water.

What are the benefits of Ionic detox therapy? The ionic technique of cleansing via the pores of the feet provides a full body purge of all vital organs, resulting in reports of   improved liver and kidney function, skin problems, sleep problems, restlessness, stress, candida, mental clarity and stronger immune response. The internal cleansing also results in faster disease healing and injury recovery.
How often should I have a treatment? Weekly sessions are optimal, but you should notice a difference after just 1 session.

We want to save our clients from the stress of traveling "to and fro" in  traffic and harsh weathers. Rather you're in town for business, special occasion or just simply want to relax at home we can service you right in the comfort of your own space (hotel, office, home). We are equipped to offer ALL of our quality wellness and/or beauty services ( check our services page) to make maintaining your health and beauty easy for you. We travel within a 25 mile radius of 30325 zip code. Any additional mileage accrued outside 25 miles radius is charged $1.00 per mile.  Allow us to bring the experience to you!!

We arrive to the clients space of choice 15 to 30 minutes early(before scheduled appointment) for setup. Setting up- depending on the service usually takes about 20-25 minutes. We are in our clients space maxed time of 2-2.5 hours (including setting up and clean up). Only requirement of the client is to provide a functional space and to RELAX!!!!! We do our best to protect the modesty of our clients by allowing them multiple options to fit their comfort zone (i.e. asking question, close supervision).
Visa, Master Card, Discover, and American Express and Cash.

Please contact us anytime! We look forward to hearing from you. Call/Text (678)719-0859 or Email: limes.lemons@gmail.com for appointments or questions!!!!!!!!!!!!!!!!!!!!!